Some snacks should require a prescription.  Seriously.  These are a couple of my favorites that are so addictive that, shhhhh, if the DEA hears about it they will want to place them on the controlled substance list.  So let this just be our little secret.  I'm going to share the recipes with you though.  
They're easy.  These make great party hors d'oeuvres.  If you like things that run a bit on the hot and spicy side, I think you will love them too.   And, did I mention they are EASY?  
STUFFED JALAPENO PEPPERS
These tasty treats have a great mix of heat and savory cheese and are virtually irresistible.  Seriously, you may want to make more that the recipe calls for, so stock up on the ingredients and enjoy!  Warning:  It's not a bad idea to wear gloves when working with peppers.  The oils from the skins can really begin to sting, especially if you accidentally rub your eyes.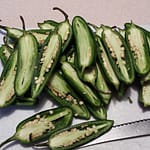 Ingredients:
15 (or so) green jalapeno peppers 1 block of cream cheese 1/2 block of any spicy cheese (Pepper Jack Cheese will do quite well), shredded Seasoned bread crumbs  
Directions: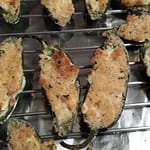 1.  Rinse the jalapenos in water to clean them, then boil them for about 5-10 minutes.  The longer they boil, the milder they become. 2.  Cut the jalapenos in half and scoop out the seeds 3.  Soften cream cheese and mix in the shredded cheese 4.  Stuff jalapeno halves with the cheese mixture 5.  Dip stuffed jalapenos onto a plate of seasoned bread crumbs (they will stick to the cheese) 6.  Bake in oven heated to 375 degrees for 15-20 minutes
KIELBASA BARBECUE BITES
These are a great snack loved by anyone interested in a meaty and tangy side dish to compliment your holiday fare.  You can make them with any favorite barbecue sauce, and spice it up by adding pepper jelly (or even cayenne pepper).   
Ingredients

: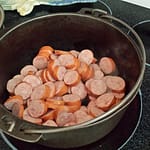 3 Kielbasa links (any style or flavor you prefer) 1 large container of your favorite barbecue sauce 1/4 cup of any pepper jelly (for added heat, omit if you prefer)  
Directions:
1.  Slice the kielbasa up and brown them in a large pan with some oil on the stove 2.  Place the slightly browned kielbasa into a crock pot (I usually drain out a little of the fat first) 3.  Add barbecue sauce and pepper jelly.  Stir and be sure the kielbasa is well soaked in the sauce.  Add more if needed. 4.  Set crock pot on high, and cook until bubbling.  Reduce to low and serve hot.   Well, I hope these give you a couple ideas to spice up your holiday gatherings.  Refill as needed.  Please enjoy responsibly!
Jalapeno peppers kielbasa Snacks
Last modified: April 17, 2023