Sometimes the Honest Apothecary likes to cook and create things in the kitchen, and I'm always looking for ways to take traditional recipe ideas and give them a spicy twist, as my taste buds are accustomed to hotter flavors.  This idea just came to me, and after sharing it at a recent family gathering, I think it was a hit.  The temperature can be adjusted by altering the amount of jalapeno, red pepper and sriracha.
This is basically my take on the traditional cream cheese and jelly idea.  I have seen some recipes that use a pepper jelly in order to spice things up, but my idea was to actually spice up the cream cheese portion as well.  Served in a pie plate, it has a neat look to it.  I hope you enjoy!   
INGREDIENTS:
2 blocks cream cheese

2 fresh jalapenos

1/2 tablespoon red pepper flakes

1/2 tablespoon of chopped parsley (fresh is best, but flakes are fine)  

1/2 jar (17 oz. jar) of raspberry jelly

1/4 cup Frank's RedHot Sweet Chili Sauce

1 teaspoonful Sriracha
PREPARATION:
1)  Soften 2 block of cream cheese and mix in a bowl with 2 finely diced jalapenos, 1/2 tablespoonful chopped parsley and 1/2 tablespoonful of red pepper flakes.  Transfer to a 9 inch pie plate and spread evenly.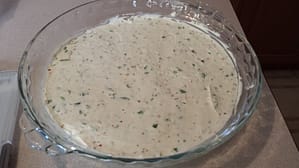 2)  In a bowl mix 1/2 jar of jelly with 1/4 cup of Franks RedHot Sweet Chili Sauce and 1 teaspoonful of sriracha.  Spread this mixture over the top.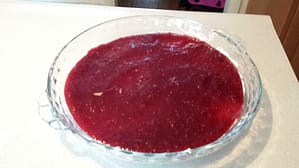 That's it!  You can cover and put it in the refrigerator or dig right in.  It definitely tastes best when the cream cheese is room temperature, and it spreads much better too.  Put it on your favorite cracker or pretzel.  Maybe smother it all over a bagel?  Great for holiday gatherings or bring it in to work to share.   
ALTERNATIVES:
I imagine that any jelly would work for a topping.  I even think that cranberry sauce would be an interesting twist on this, especially around the holidays. 
Last modified: April 17, 2023