This post is a continuation of our little series of commonly confused medications in the retail pharmacy setting.  The series is especially meant for new pharmacists, pharmacy students or pharmacy techs.  For those who are keeping track, this is #4 in the series.  Here are the links to the previous posts:
Post #1: Divalproex DR vs. ER
Post #2: Bupropion vs. SR vs. XL
Post #3: Diltiazem strengths
Today's post will be a bit easier than the previous ones.  I want to discuss the issue of fluoride supplementation products commonly dispensed in the pharmacy.  In particular, we will focus on the chewable tablets and oral liquid.  The focus of this post is just on trying to explain the sometimes confusing way in which fluoride concentrations are stated on the labels in an effort to help the pharmacy staff choose the appropriate product when prescribed.
Note:  This article is NOT intended to address the far more controversial issue of the BENEFIT of fluoride supplementation.  I shall leave that for another time, but am happy to address any questions that might be sent to me via email or posted in the comments below.
Oral fluoride supplements are intended for children for the prevention of cavities (i.e. dental caries).  They are available in 3 different dosage forms:
Drops (drops dispensed directly from the bottle by squeezing it)
Dropper bottle (liquid dispensed via a calibrated dropper that comes with the bottle)
Chewable tablets
The confusion often surrounds the fact that manufacturers report the total amount (in mg) of SODIUM FLUORIDE contained in each dosage unit of their product.  However, when using fluoride as a supplement, we are only concerned with the actual amount of the FLUORIDE ion itself.  Hence, the amount of SODIUM FLUORIDE will be more than the actual amount of FLUORIDE ion.  
Note:  Prescribers will indicate the amount of FLUORIDE desired per dose for the patient.
Here is the conversion information you may need to remember:
0.278mg Sodium Fluoride = 0.125mg Fluoride (you will likely never see this)
0.55mg Sodium Fluoride = 0.25mg Fluoride (you will likely never see this)
1.1mg Sodium Fluoride = 0.50mg Fluoride
2.2mg Sodium Fluoride = 1.0mg Fluoride
Typically it is only the last two (1.1mg and 2.2mg) that tend to throw people off, as manufacturers don't usually indicate the amount of Sodium Flouride on the packaging of the 0.25mg or 0.125mg versions.
HOW SUPPLIED:
For your convenience, here are the dosage forms and strengths that are currently available:
DROPS: The DROPS come in a 30mL bottle and are concentrated to 0.125mg fluoride PER DROP.  This formulation is typically used only for infants when fluoride supplementation is recommended.  A typical dose would be 2 drops (0.25mg) by mouth daily.
DROPPER BOTTLE:  The bottle version is concentrated at 0.5mg/mL.  It contains a calibrated dropper to allow dispensing of 0.5mL or 1mL.  Thus, to administer 0.25mg of fluoride, the dose would be 0.5mL by mouth once daily.  To administer 0.5mg of fluoride you would give 1.0mL by mouth once daily.
CHEWABLE TABLETS:  The chewable tablets come in 0.25mg, 0.5mg and 1.0mg strengths.  
Counseling Tip:  The chewable tablets should ideally be taken at bedtime after brushing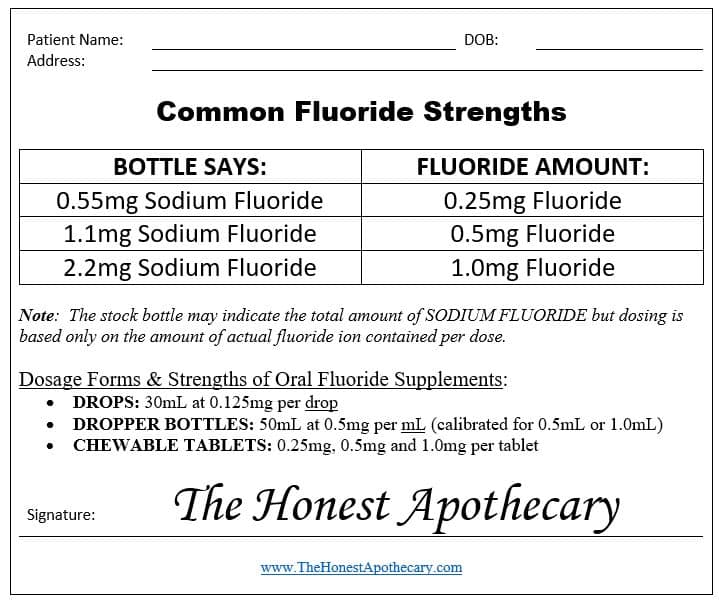 ©Jason Poquette and The Honest Apothecary.  Unauthorized use and/or duplication of this material without express and written permission from this blog's author and/or owner is strictly prohibited. Excerpts and links may be used, provided that full and clear credit is given to Jason Poquette and The Honest Apothecary with appropriate and specific links to the original content.
Commonly Confused Drugs Fluoride prescriptions
Last modified: September 27, 2016