This past week I had the privilege of visiting my good friend, Jitendra Patel R.Ph., at his brand new pharmacy he opened in Methuen, MA. I drove Interstate 93 North and got off exit 47 and found his store conveniently located within about a minute of the highway. He actually bought the land several years ago and had been waiting for the opportunity to build a store of some sort. When he bought it, a pharmacy wasn't actually the first thing on his mind. Though he is a pharmacist (and a great one at that!) he is also a sharp businessman and had several ideas how to develop the land once the time was right.
But circumstances convinced him that it was time that he jump into the pharmacy ownership career, so that is exactly what he did. He went with the franchise approach. With the help of the folks at McKesson, who operate the Health Mart Pharmacy stores, he was able to build and prepare his pharmacy in a relatively short amount of time. He liked the freedom to really operate the pharmacy independently and still have the resources and assistance offered by their connection with 3000 stores nationwide. According to the Health Mart website:
"You don't have to give up your independence to become a Health Mart pharmacist. In fact, the franchise program delivers national strength, protection and benefits with no sign-up costs and no binding commitment. You pay a low monthly fee not tied to your revenue, and you have the security of a 90-day out clause that you can exercise at any time, without penalty."
And he's not alone. I was just reading an article the other day about how more and more pharmacists are looking again at the possibility of owning their own stores as a serious career path.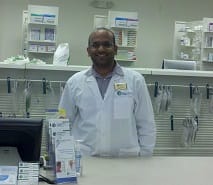 As I visited with Jit he gave me a tour of the pharmacy and store. He has experience running convenience stores, and so he decided to leverage that experience by creating a combination convenience store/pharmacy with his location. "The front store traffic generated by the convenience store will help drive traffic and provide sales while I get the pharmacy prescription business built."
He offers the full line of home health care supplies, immunization services, local delivery and a drive-through window too. "There really were no independent pharmacies operating here on this side of Methuen" he told me. So his store will definitely fill a needed gap in the prescription filling area of this well-populated community.
As I drove home from my visit, I started thinking afresh about some of the unique challenges that my friend Jit (and many others who open a brand new pharmacy business) have to face in these early days of being the "new guy" on the block.
NEW PHARMACY CHALLENGES:
STAFFING AND STORE COVERAGE
Right now my friend is covering pretty much all the hours himself. Now, at the start, this is probably a very good thing as he gets to know the people of the Methuen community, the local physicians and other resources in town. He is a friendly and outgoing person and will fit in quickly. But it has to be hard. And I suppose other pharmacists who have opened there own store have gone through the same struggle and long hours as well.
PROMOTIONS AND ADVERTISING
HealthMart Pharmacy of Methuen might be the best kept secret in town. Not for long!! But how exactly to get the word out while also working virtually all the hours himself is no small challenge. But Jit is creative. He has a FACEBOOK PAGE set up already with active postings that will help grow an awareness for his business through social media. By the way, the Facebook page is a 100% FREE service offered by RxWiki [click the link to to contact Anrew Berg about this] which also includes setting up a mobile app and the opportunity to be a consulting expert for RxWiki articles. And of course he has a friend (yours truly)…who sort of likes to blog about such things. No doubt he will shortly be getting in to meet all the local doctors and healthcare providers in and around Methuen, spreading the word about his services and his desire to help their patients.
CASH FLOW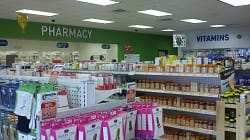 Well, it takes a while to build up the prescription business. As Jit told me "even patients who come in and love what we are doing here often have to wait 60 to 90 days before their prescriptions run out and they can transfer their business to my store." So new owners need to be prepared for that. In the mean time, maximizing his sales on the front end with a great selection of healthcare, home, food and other convenience items will help generate business while the Rx count slowly grows.
WAITING
One of the biggest challenges it seems to me is just the challenge of waiting. Waiting for the business to take off. Waiting until you are in a position you can hire some more help. Waiting for the community to really embrace what you have dreamed about and hope for. "Patience" they say "is a virtue." And a new pharmacy owner undoubtedly needs a LOT of this virtue to succeed.
CONNECTIONS AND RELATIONSHIPS
Finally, there is the challenge of really connecting with others. Those of us who have worked in community pharmacy a long time know what this is like. Getting to know your patients. Getting to know the nurses and physicians and build a measure of trust and cooperation in patient care. Getting to know other businesses in town and looking for ways to maximize the effectiveness of those relationships. Because at the end of the day, business is about people meeting people. Business is about looking someone in the eye, being sincere and gaining trust. This is what pharmacy is all about. This is what being successful is all about.
I'm grateful for the opportunity to watch my good friend Jitendra's business grow. It will grow. He will be successful. He has a great set of resources and skills, and a great heart to help patients manage their medications and improve the quality of their lives. If you happen to be driving through Methuen, stop in and give him a visit. Tell him Jason sent you. It might not get you a free prescription, but it will probably get you a smile. And that's worth it.
HealthMart Pharmacy Methuen Jitendra Patel Pharmacist Pharmacies in Methuen
Last modified: April 17, 2023