Once upon a time I worked the night shift.  I remember it like it was yesterday: walking across the dim parking lot as overhead lamplights cast long shadows on the pavement.  The bright moon, occasionally blocked by clouds, welcomed me to my eventide employment.  Most of the town was fast asleep, apart from a few nocturnal wanderers whose presence stirred the silence of the air like floating leaves blown by ghostly winds.  I was a stock boy.  It was a grocery store job.  I put cans on shelves. 
Okay, so I've never worked the nightshift as a pharmacist.  But I know someone who does.  And many pharmacists and pharmacy students may be wondering about what it's really like to work in a retail pharmacy overnight.  We all know that sickness, injuries and accidents don't confine themselves to "business hours."  Not only that, but questions can arise at any time of the night as well.  Children get sick and parents need medication dosing advice.  Emergency rooms discharge patients in need of immediate medication.  Then add to all of this the fact that the sheer volume of prescriptions being filled at some locations requires the help of overnight staffing to manage the work flow.  I don't know the numbers, but I imagine the number of 24 hour pharmacies have grown, and will continue to grow, for years to come.  The overnight shift in a retail pharmacy is a distinct career niche, and I was eager to share this career path with my readers.
So I reached out to a friend from Twitter (and whose true identity shall remain a secret!).  She was willing to answer a few questions for me and my readers here at The Honest Apothecary about working the overnight shift as a pharmacist.  Thank you VampiRPh!!
1)  How long have you been a pharmacist and what were the things about the retail/community pharmacy setting that attracted you?
      I've been a pharmacist for 8 years come July.  Before that, I was a tech in retail for 15 years.  I've been in retail pharmacy since I was 16 years old.  It was really all I knew and what I was comfortable with.  Plus I graduated in the "salad days" where there were quite sizable sign on bonuses for retail pharmacists. I was offered other non- retail opportunities, but as a struggling student, could not pass up the sign on bonus and the higher salary.  In hindsight this was foolish.
2)         What factors caused you to consider working the overnight shift?  What, exactly, are the hours you work?
      I was PIC [Pharmacist-in-charge] at a very busy store in a major chain for 4 years.  The pressure and stress of keeping up with impossible to meet metrics was taking its toll on my wellbeing; plus the day to day nonstop insanity of too many prescriptions and customers. I am a night-owl by nature anyway. I routinely stayed up until 3am. My pharmacy supervisor knew I wanted to step down and she presented me with the opportunity. I was unsure, but gave it a try.  I've been working this shift since October 1st 2012.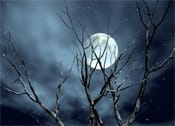 3)         Was it a difficult adjustment?
     It wasn't as bad as I thought it would be. I got onto night shift mode easy as pie. I have never have had trouble staying up the whole night, unless I don't get enough sleep in the daytime. Much as any day shift person would if they don't sleep at night. That's what Monster drinks are for!!  I did have quite a bit of trouble getting off my nightshift mode. Talked to many nightshift workers for advice and found my own way to "turn my clock" back to day. That took a couple of months to figure out. 
4)         Some overnight pharmacists work 7 on and 7 off.  Is that the type of schedule you keep?  If so, how do you like doing that?
      Yes, I work 8pm-8am Monday through Sunday nights. 7 on 7 off.  I LOVE it. Yes, my 5th, 6th and 7th night I'm tired physically but it's not really bad. On my off weeks, I can go on mini vacations – little 4-5 day trips. It's great. Or I can schedule MD, hair, Auto, etc. appointments without time constraints. And when I take my vacation, it turns into 3weeks off. Now, tell me….how many retail pharmacists get 3 weeks off together?  None.
5)         In your opinion and from your view, what are the biggest differences between working overnight from working during the day?  Are there particular "duties" that the overnight pharmacist is always responsible for? 
     The biggest difference is the peace and quiet.  Yes, I am still busy filling prescriptions but the phones aren't ringing off the hook, drive thru doesn't have a line of 10 cars, pick up isn't 8 people deep. I'm usually very busy, people-wise, until 12am or 1am. After that, it's pretty quiet until about 5:30-6am…USUALLY.    Also, it is amazing how much longer it takes to fill prescriptions when there are no techs. Print & fold labels, pull drugs, count drugs, verify, bag, put the finished prescription in the pickup bin, put drug away……all multiplied over and over. It takes a long time!! 
    I don't have any preset duties at my store.  My PIC knew me from when I was PIC, so she trusts that I can prioritize my duties. Plus we text frequently and if there is an overwhelming amount of work, as there oftentimes is, I ask her if my priorities jive with hers.  if they don't , I do what she asks.
6)         Do you have tech help?  Or better yet…do you have ENOUGH tech help?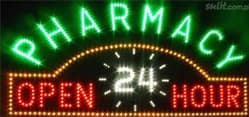 I have tech help from 8pm to 11pm. Maybe 12am one night/week.  But now in summer, hours cut back so tech leaves at 10pm.  Morning tech arrives at 7am, one hour before my shift ends. 
No, I do not have enough tech help.  Who does?  In the winter months, it is horrible.  I had an overnight tech for 2 weeks.  It was wonderful.  Then she got pulled back to day shift because a tech quit. I also do not have any filling automation besides a Kirby-Lester counting machine. No Baker cells, no Script Pro, nothing.  All prescriptions are counted by hand. 
7)         Safety is a concern at ALL hours in a pharmacy, but maybe even more so at night.  Have you ever had a safety issue working overnight?  Would you be willing to share a little about it? 
     I've never had a problem overnight with safety…luckily.  My drive thru window is fixed, so I only have a drawer and the phone to communicate.  And the front store staff is VERY diligent in watching all customers who enter the store.  And the front store managers come back and check on me to make sure I'm ok. I do have quite a few people coming in trying to pass fake C2 prescriptions overnight. But have not had incidents with them.  Maybe I've just been lucky so far.  I was robbed at my old store when I worked day shift.
8)         How has working overnight affected your life socially? 
      During my work weeks, I can't do anything besides work and go home to unwind and sleep.  So I have to plan to see friends on my off weeks. It makes me sad when parties are planned on my work weeks. I just can't go. But my friends and family understand. 
9)         Would you recommend working overnight to another pharmacist? 
     Yes, if they are night owls and want less stress. Also, you have more time to talk to that customer who calls about a strange side effect or worried about their blood pressure.  I've felt more like a REAL R.Ph than just a verifier. You also need to be self-motivated.   It's not for someone who wants or needs social work interaction since you are alone most of the shift.
10)       Do you think you will ever go back to days? 
   No, not in retail. I have found my niche.
I want to sincerely thank my friend or chatting with me and sharing her career with us.  If you have any general questions about working the overnight shift as a pharmacist, feel free to ask them below!
Note:  This original interview was done with @VampiRPh (account closed) who has since changed her account to @ReVampiRPh.  !
The contents of this article may not be redistributed or republished in whole or in part without the express persmission of The Honest Apothecary©. 
Overnight Pharmacy Shift VampiRPh
Last modified: April 17, 2023