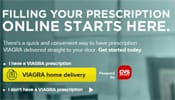 A little blue bomb dropped on the pharmacy community this week.  Pfizer, the U.S.  based pharmaceutical manufacturer of Viagra for erectile dysfunction, has launched a service dedicated to filling your prescription for Viagra safely and discreetly, mailing it directly to consumers who never need to step foot into an actual pharmacy.  You begin the process by going to VIAGRA.COM.  Then, after choosing "Viagra Home Delivery" the patient is re-directed to the CVS online pharmacy site dedicated to filling and delivering your prescription for Viagra to your home.
I suspect there will be some out there in the pharmaceutical community who are going to object strongly to this maneuver by Pfizer to take prescription filling out of the hands of local community pharmacies and shuffle this through an online pharmacy network.  Personally, I won't be one of them.  Allow me to share my perspective on what has happened, and how I think community pharmacies should respond.
THE ISSUE:
So what is the driving force behind this issue?  There are actually at least 3 things going on at once which led to Pfizer initiating this tactic of offering to fill Viagra prescriptions online.

1)  First, there is the issue with "fake" Viagra being sold through unlicensed and unregulated "online pharmacies" directly to U.S. consumers.  This is a real issue.  It's big business.  And it is dangerous.  The lure is primarily the price, offering consumers (sometimes) a $1 per pill deal compared to the $15 (or thereabout) per pill price they might pay at their local pharmacy.  In a Bloomberg article sitting here on my desk, Senior Pfizer Scientist Amy Callanan indicates that these online pharmacies are marketing Viagra knock-offs which might contain "chalk, brick dust, paint, and even pesticides."  Counterfeit drugs are an estimated $75 billion dollar a year operation. 
2)  Second, there is the issue of "embarrassment."  It isn't only the price that is supposedly driving consumers to search out online options for filling their prescription for erectile dysfunction.  Rather, men feel uncomfortable admitting they are having some "performance" trouble and fear exposing this rather private concern to the staff (and maybe other patients standing around?) of their local pharmacy.  The "online" option seems a reasonable solution.  No face-to-face contact.  No potentially embarrassing scenarios such as "Mr. Smith, please step right over here, your prescription for ERECTILE DYSFUNCTION is now ready for you to pick up!"  No thank you.  Shopping online, whatever the risk, seems like a worthwhile tradeoff for such potential humiliation.
3) Finally, let's be honest, there is the profit concern.  Every online prescription filled for Viagra by a "fake" pharmacy using bogus pills is money out of the pockets of Pfizer and the U.S. healthcare system.  It's a leak, potentially a big leak, and Pfizer's  Viagra Home Delivery is the virtual duct tape being applied to this problem in the pipe.
HOW TO RESPOND:
While all sorts of opinions and concerns are likely to be raised about this situation – which is admittedly a somewhat unique approach to handling this issue – I think there are certain common sense observations that we should bear in mind.  In fact, as someone called upon to consult independent & community pharmacies about business growth and marketing, I think we need to really look at this as an OPPORTUNITY rather than an ASSAULT.
First, let's be realistic about what is going on.  Viagra Home Delivery is really nothing more than a mail-order pharmacy (contracted out to CVS) and is really nothing new to the pharmaceutical marketplace.  Have you ever been encouraged (or forced) to use a mail-order pharmacy to fill your prescriptions by your insurance company?  Many have done so, and this approach is really nothing different.  Some may object that this encourages the use of "multiple" pharmacies, as patients will likely continue to get their other meds from their usual community pharmacy.  But the fact is that patients are always free to use multiple pharmacies, and would still likely do so if the "embarrassment" of filling Viagra was more than they could take.  In other words, if they don't use "Viagra Online" to fill their Rx, they might still travel to "Joe's Pharmacy" the next town over and fill it to avoid the potential interaction with their regular community pharmacy and staff.
Second, don't miss the opportunity!  If $1.00 Viagra is what consumers are after, the Viagra Home Delivery service through Pfizer/CVS is not going to solve that problem.  But if the "embarrassment" issue is a concern – there may be ways to meet our customer's privacy concerns and help drive business.  For example:
OPPORTUNITIES:
Emphasize your PRIVACY policy.  Does your store signage make it CLEAR that your prescription will be handled with confidentiality, privacy and sensitivity toward patients?  They need to know this.  Pharmacists, technicians and pharmacy staff know all about HIPAA privacy and what lengths we go to in order to keep prescription records and information secure.  But do you patients?  Probably not.  Make it clear!

Is the physical structure of your counseling area designed to emphasize your commitment to privacy?  A wide open area right next to the main store entrance is NOT a very inviting location for patients to discuss their medication with the pharmacist.  Set up some tasteful barriers.  Let patients see that we are aware of this need for discreet prescription pick-ups and discussions.

Consider a dedicated drop-off.  What if you constructed a secure drop off box in which patients could fill out a form, drop off their prescription, and have it mailed to their home without the need for further interactions?  Yes, an offer for counseling from a pharmacist should be part of this form.  But if Viagra Home Delivery can do it…why not you?
I'm not getting all up-in-arms about Viagra Home Delivery.  In fact, I see it as an opportunity for community pharmacies to really position themselves as centers for care with their fingers on the pulse of patient needs.  Rise up (pardon the pun).  And don't let this opportunity pass you by.
All rights reserved. This article may not be copied or reproduced online without the express permission of The Honest Apothecary®
Mail order Viagra Pfizer Viagra online
Last modified: April 17, 2023