Most patients aren't familiar with what a PBM is.  They may, however, have heard of some of the "big names" associated with this line of business like Express Scripts, Prime Therapeutics, OptumRx or Catamaran.  Go ahead.  Pull out your prescription insurance card and look at it.  There is a strong possibility you might see one of these names.  About 75% of all prescriptions filled in the U.S. are handled by a PBM.
But as with any big business comes big controversy.  Sometimes PBM's have been accused of actually adding more cost to the healthcare system.  The tactics used to create pricing advantages have been questioned.  And independent community pharmacies are often locked out of their networks.  But where some see a problem, others see an opportunity.  And this is where RxPreferred Benefits comes in.  They are a Nashville, TN based business that is owned and operated by independent pharmacies.  It is a great privilege to be able to talk with CEO Jeff Malone about this company and their unique approach which provides greater savings to employers while leaving consumers free to utilize their local independent community pharmacy.
Thanks for speaking with us at The Honest Apothecary!
1)      Hello Jeff!  Could you tell us first a little about yourself, your background and how you came to be CEO of RxPreferred Benefits?  
I previously co-owned a pharmacy operations company called 'Net-Rx,' where we offered operational and reconciliation services to independent pharmacies.  After the acquisition, I was approached by a group of independent pharmacy owners who were tired of the traditional PBM tactics of spread pricing, poor reimbursements, negative reimbursements, losing business to mail order, etc.  As a result, we formed a truly transparent PBM that is solely owned by independent pharmacy owners.   
2)      RxPreferred Benefits is a PBM.  Could you just explain to my readers what, exactly, a PBM is?  
Pharmacy Benefit Managers are responsible for processing and paying prescription drug claims for an employer, or group, that offers prescription benefits.  A PBM is responsible for developing and maintaining the formulary, contracting with pharmacies, and negotiating discounts and rebates with drug manufacturers.  

3)      Do you have any idea how many PBM's there are in the U.S.?  What makes RxPreferred Benefits unique? 
There are fewer than 100 PBM's in the US.    We are a fully transparent PBM that is solely owned and operated by independent pharmacy.  We allow independent pharmacy owners to purchase stock in our organization and have a vested interest moving forward.  Any referring pharmacy receives a percentage of the claim, no matter where the script is filled.  There are absolutely zero hidden fees or spread pricing with us, in fact, we only charge a flat per claim.  We actually have auditing capabilities in our software to ensure we are delivering the transparency that we promise. 
4)      Could you briefly describe the process that an employer would go through to contract with RxPreferred Benefits?  Don't most employers just buy the medical and prescription benefit as a single package? 
The steps an employer would take to partner with RxPreferred Benefits are very simple.  We run a free analysis detailing the anticipated savings (roughly $8-$12 per script over a traditional PBM) and expected rebates.  We have a very short contract (about 7 pages long) and we only operate on month-to-month agreements.  We feel if we are delivering on what we initially promise with our analysis and service, there shouldn't be a reason for a long term agreement. There are absolutely zero upfront costs working with us and we only need 60 days to bring a plan live. 
5)      Would you explain the 340B program – in simple terms – and how community pharmacies can connect with RxPreferred Benefits to be able to service these patients? 
The federal 340b program is a discount drug program that was designed for the indigent patient populations. Any non-profit, or government owned hospital or clinic, is eligible to participate in the program. The discounted prices are negotiated between the government & drug manufacturers, and updated quarterly.  Our 340b Administration Program is a full turnkey solution.  We handle everything from registration, contracting, virtual inventory management, reporting, and compliance. Our services have industry leading safe guards to insure that the medication is 340b eligible before it is ever dispensed.  
6)      How does the Hospice program work?  How would an independent pharmacy go about seeking to service hospice patient in their community? 
 Our Hospice Program is fully customizable fee-for-service option.  Our services include claim & formulary management, reporting, and real time enrollment capabilities which streamlines and safeguards operations between the hospice and pharmacy. 
7)      The prescription benefit of a medical plan is often very confusing to patients.  How does RxPreferred Benefits help patients?  How do you rate when it comes to customer service? 
We have an excellent support staff that can assist patients with any question about their prescription benefit coverage 24/7.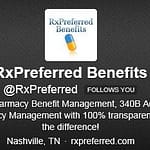 8)      Jeff, how can a pharmacy or employer interested in your services get a hold of RxPreferred Benefits? 
Please contact us at 888-666-7271 or info@rxpreferred.com and our sales team will be able to answer any question about our products and services.  Also, please make sure to follow us on Twitter at 'RxPreferred.'
I want to thank Jeff once again for sharing with us all of the services available through RxPreferred Benefits!  Whether you are an employer or pharmacy, please visit their website and see what RxPreferred Benefits can do for you!
©Jason Poquette and The Honest Apothecary.  Unauthorized use and/or duplication of this material without express and written permission from this blog's author and/or owner is strictly prohibited. Excerpts and links may be used, provided that full and clear credit is given to Jason Poquette and The Honest Apothecary with appropriate and specific direction to the original content.
Independent Pharmacy Jeff Malone PBM Pharmacy prescriptions RxPreferred Benefits
Last modified: April 17, 2023