Psychologists sometimes call it "motivational processing."  It has to do with our tendency to interpret things the way we WANT to see them, rather than the way they really are.  In the words of John Lubbock, the 19th century London banker, "what we see depends mainly on what we look for."  I have found this to be true in many arenas, not the least of which is the pharmacy profession.  We see what we want to see.  That's why I find it helpful and refreshing to hear the perspectives of others on this career I call my own, especially when the perspective comes from someone who has been at it a bit longer than myself.  It is a great honor to have pharmacist and Drug Topics contributor James Rawlings here to chat with us at The Honest Apothecary.  Actually, his friends call him "Goose," and I'm blessed to be one of them.  So please, grab a cup of coffee, put your feet up, and let's talk a little pharmacy.
1)  Goose thank you kindly for taking the time to talk to us here at The Honest Apothecary about your career as a pharmacist.  To begin with, could you just tell us a little about where you are from and what interested you in pharmacy to begin with?
I'm 59 years old and grew up in Central Indiana. I live within 80 miles of my birthplace and have never lived any farther away. I grew up in a very small town and there was a pharmacy in a slightly bigger town about 5 miles away called Moore's Drug Store. It was my favorite place to go because it had a soda fountain and they sold comic books. One time the owner took me back behind the bench and let me watch him fill my mother's prescription. I was hooked from that point and never really considered another career option. After high school graduation, I enrolled in Pre-pharmacy at Purdue University in West Lafayette, Indiana. There were 950 people vying for 175 spots in my class. I plodded my way to spot number 175. I consider myself very blessed to be a pharmacist but I also have worked hard to become the best I can be. Lots of good mentors have helped me over the years. That's just another blessing. 
2)  In a tough job market, it is more important now than ever to diversify your experience as a pharmacist.  Could you tell my readers about the various experiences and jobs you have had during your career so far?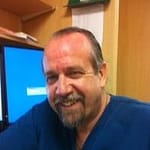 I have done everything but sales. I started in retail and have done both chain and independent. I started a home infusion service that met Joint Commission standards. I have worked in long term care and understand durable medical a little. I have left retail twice to go into hospital, the most recent 7 years ago. I have worked in 7 different hospitals, from one of the biggest in the country to a small county hospital. I have also taken a veterinary compounding course and enjoy compounding.
Last fall I became board certified in anti-coagulation and I work in a Coumadin Clinic. I'm pretty proud of that, there are only a little over a thousand people in the country that have that certification. 
3)  Was the diversity in your practice settings part of a deliberate plan to experience a variety of career choices?             
I have just always liked doing different things. I left retail the last time because I was having trouble with the pace and was frustrated by the lack of professionalism by the company I worked for. I feel that if you aren't growing you really limit your options. I always wanted to have a "Plan B'.   I constantly think of something that Charles Darwin said about survival. This is not a direct quote, but he said that it is not the smartest or the strongest of a species that survives, it is the individuals that best adapt to change. That's been my philosophy throughout my career.
4)   Can you say whether one particular practice setting has been the most enjoyable for you, and why?
Definitely the Coumadin Clinic. It is a glimpse of the future I think. We just counsel and get paid for it. No dispensing. We are profitable too. I wish more pharmacists would embrace compounding. It's the last bit of "magic" we have left. Pharmacists are problem-solvers and compounding is just problem solving.
5)   Do you have any comments or thoughts on the general direction of the pharmacy profession today?
Well, we need to get provider status, that's the first priority. We need to make school more affordable for the kids, I'm pretty vocal about that.
I no longer donate money to my alma mater and never will. I have a lot of contempt for the pharmacy schools at the moment. They keep making pharmacy school harder and harder to get into and charge a tremendous amount of money to go there. They seem clueless.
I think the whole residency issue is wrong too. The kids are getting sold a bill of goods about that for sure.
That said, I am optimistic about the profession. We have the skills, we just need to get the chance to use them.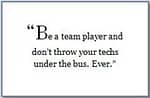 6)   What advice would you have for new pharmacy graduates today?
Don't do a residency because you feel like you have to, do one because you want to. Pay off any school debt before you give any money to your alma mater. You must work with people you like and trust first and foremost. When you get in a good place, no matter what the practice setting, fight like hell to stay there because someone will always want to move you to another place to "fix" it. Be a team player and don't throw your techs under the bus. Ever. I have always strived to be the person everyone wanted to work with. Dependable, on time, willing to do the difficult jobs and shifts.
If you are like that, you will always have a job. If you say "no" more than "yes", no one will want to work with you. 
7)   Are there things that you would still like to do within the profession that you haven't tried yet?
I would like to expand my compounding knowledge. I may try for board certification in Pharmacy Practice.
8)   When you are not in the pharmacy, what other sorts of hobbies or interests do you have?
My wife and I married when we were 19 and have been together more than 40 years. We like to do projects around the house and have restored old houses. We ran a bed and breakfast together for a while and also had a soda fountain. We like to fix stuff up. So I guess that's a hobby. I like to read, garden and ride a bicycle. I plan to ride across the country in the next few years.
I also like to write and hope to get a book done about my childhood someday.
9)   Goose thanks again for taking the time to talk to us.  I know you are a contributor to Drug Topics.  Where can my readers find more of your articles?  And if someone wanted to contact you, what would be the best way to do so?
I mainly write for Drug Topics and my hospital's newsletter. I guess I have an Andy Rooney/Lewis Grizzard style of writing, humor with an edge to it.
I can be contacted at redgoose54@gmail.com and love to "talk about the biz" with people. Please feel free to reach out about anything.
Watch for some new articles in the next few issues.
©Jason Poquette and The Honest Apothecary.  Unauthorized use and/or duplication of this material without express and written permission from this blog's author and/or owner is strictly prohibited. Excerpts and links may be used, provided that full and clear credit is given to Jason Poquette and The Honest Apothecary with appropriate and specific direction to the original content.
Goose Rawlings Perspectives of Pharmacy Pharmacy Profession
Last modified: April 17, 2023