Lately I've been watching a bunch of tweets, posts and professional back-slapping going on about the news that pharmacists are apparently the most trusted health care professionals.  I saw the news posted at NABP and DrugStore News and many other places.  The original study that everyone seems to be citing was done by a group called Meyocks and can be found here.  I don't know any of the good folks over at Meyocks, so my intention is not to slander their survey or results.  My only point is that they are wrong.  They are wrong because they seem to have overlooked (intentionally?) the health care career that has been #1 in consumer trust, honesty and integrity for many years.
Who am I speaking about?  Nurses of course.
And the race isn't even close.  Nurses are WAY out ahead of every other medical profession in terms of the amount of trust the public has in them as a profession.  
For example, check out the most recent Gallup poll information below or click HERE.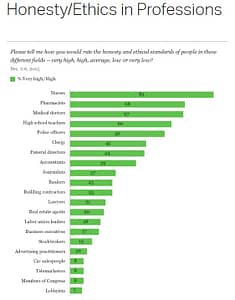 What is disturbing is that the survey folks would use language like "Pharmacists are the most trusted group in the health care industry" without even mentioning the fact that they failed to include nurses in the survey.  
Who WAS included in their survey?
Pharmacist

Doctors

Dentists

Hospital Executives

Dental Insurance Executives

Medical Insurance Executives

Members of Congress
Does it seem, even a little bit, like they stacked the deck here?  Who trusts insurance executives?  And members of congress?  Really?  Why not include car salesmen too just to make us stand out even more?  But that would be too obvious.  Frankly, as a pharmacist, I'm a bit embarrassed of a survey that certainly seems to have been rigged to put pharmacists at the top.  And with a 2.9% margin of error, there really isn't much of a difference between us and doctors.
The Future of Pharmacy
Let me be clear.  I love pharmacy and pharmacists.  I have had the privilege of working with some of the finest and most ethical and compassionate pharmacists around.  I have a vision and dream about the future of pharmacy in which we use our knowledge to improve patient outcomes and contribute to patient wellness like never before.  I have high hopes for our profession, in spite of some serious obstacles and challenges.  We can do this!
But we will never arrive at the right destination by lying to ourselves about where we are now.  And the fact is that we have a long way to go to continue to improve our reputation in the eyes of the patient community.  
The way to get there is by caring, serving and working hard.  The way to get there is not by complaining about our employers but by actively changing the culture of our companies and the working atmosphere from the inside out.  The way forward is to show up to work every day, each and every one of the 250,000 of us, with our hearts and minds committed to great patient care.  
I'm sorry pharmacists.  We are NOT currently #1 in the patient's eyes.  And I give full credit and acknowledgement to the hard work of so many nurses who give of themselves sacrificially to care for patients every day.  We care too.  And we need to show it in the way we run our pharmacies, interact with other health care professionals and most importantly how we interact with the patients we serve.
©Jason Poquette and The Honest Apothecary.  Unauthorized use and/or duplication of this material without express and written permission from this blog's author and/or owner is strictly prohibited. Excerpts, quotes and links may be used, provided that full and clear credit is given to Jason Poquette and The Honest Apothecary with appropriate and specific links to the original content.
Careers nurses Pharmacists trusted
Last modified: July 21, 2016