Patients without insurance are forced to often choose between paying the high price of many prescription drugs or skipping their medications in order to avoid going broke.  Health plans pay less for the same medication than individual patients often pay.  They negotiate lower prices because they have many members.  A FREE prescription discount card gives individual patients the opportunity to pay the same sort of lower prices enjoyed by the largest health plans.
I personally recommend THE MEDICATION CARD because it is totally free and doesn't require that patients provide ANY personal information.  Just print and bring it to your pharmacy. 
To get your FREE card just CLICK HERE and scroll down to the print button.  Bring the printout to your pharmacy with your next prescription.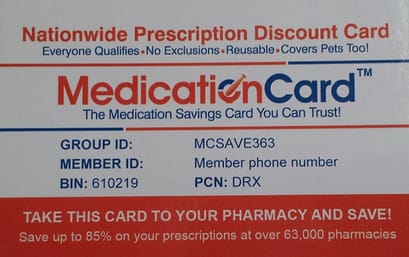 Last modified: July 2, 2014